Dans la Nuit by Worth: (In the Night) launched in 1922 in France, it was available in a wider distribution in 1924. This was Worth's signature fragrance; created by Maurice Blanchet; it was initially a gift to distinguished clientele of the fashion house. When the perfume Dans La Nuit was created, Worth had the idea of offering it to the company's best clients. This gesture was so appreciated that Worth had no alternative but to out the new scent on sale. This was the origin of one of the oldest and most renowned brands of perfume.
c1926 Franklin Simon ad.
Dans la Nuit was available as parfum extrait, eau de toilette, face powder, face powder compact, eau de toilette, talc, bath oil, sachet powder, dusting powder and soap.
The Spatula, 1922:
"Dans La Nuit. Societe Worth, Paris, France."
Drug & Cosmetic Industry, 1938:
"Worth's eau de Cologne (distributed in U. S. by Al Rosenfeld, Inc.) comes in the Dans La Nuit and Je Reviens fragrances, in four sizes of crystal-clear Lalique bottles. The fragrances are very similar to the perfumes."


Fragrance Composition:
So what does it smell like? It is classified as an aldehydic floral fragrance for women.
Top notes: aldehydes, camellia, blackcurrant and berries
Middle notes: jasmine, rose, tuberose and iris
Base notes: orris, ambergris, musk, cistus labdanum, vetiver and sandalwood
Worth began combining extracts of various flowers and finally managed to recreate the smell emitted at night by flowers heated by the sun. This became known as "Dans La Nuit."
Bottles:
In 1924, Jean Philippe Worth, back from a trip to the Italian lakes, asked a friend to design for him a starred bottle to remind him of the wonderful Italian nights.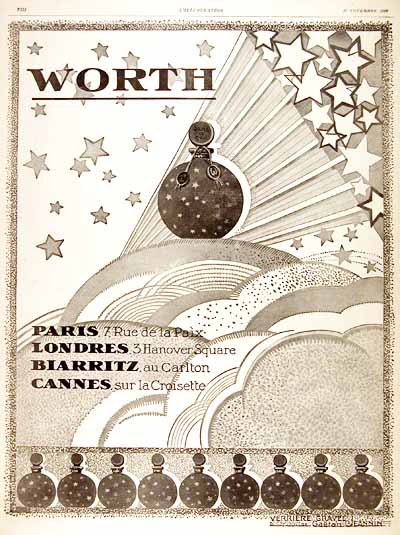 Originally presented in an orb shaped Art Deco-styled flacon, known as the boule, made by René Lalique et Cie. The earliest design for the stopper was a disc with an eclipsed moon of crystal-polished glass in bas-relief against a cobalt-stained sky filled with raised, crystal-polished stars. This style stopper was available from the mid-1920's through the mid-1930's, when it was discontinued due to an allegation of trademark infringement. Proctor & Gamble had objected that the star-moon motif was too similar to its Ivory soap logo.
Commercial Art, 1924:
"SCENT-BOTTLES AS PUBLICITY By Christopher Mann Photography Advertisement for " Dans la Nuit " and ". Dans la Nuit " Perfumery by Worth, Paris (Photo. Studio Rahma, Paris) ...of the bottles in the Worth box which is of a lovely tone of blue. The colour plate gives an illustration of one of the best bottles of all: |a blue globe of frosted glass on whose surface little crystalline stars are picked out and whose stopper contains a crescent moon."
Fashions of the Hour, 1926"
"Very top — Brajan's perfume, Zarella, in a smart black bottle with ivory stopper, $27. Top right — a red etched bottle contains the light blend of Lionceau, Pour Blondes, $25. The starry little bottle of Dans la Nuit is in midnight blue, from Worth, $11."
Drug and Cosmetic Industry, 1937:
"WORTH Worth's "Dans La Nuit" perfume is now available for the first time in this country, in a half ounce size. It comes in the same midnight blue Lalique bottles with attractive silver trimmings, which marks the larger packages."
From the mid-30's on, the boule was issued with a stopper featuring the eclipsed moon and, in lieu of stars, the perfume name Dans la Nuit rendered in a lowercase calligraphic font.
The Rene Lalique et Cie 'model register' mentions the DLN boule model on March 29, 1924. On Jan. 20, 1926, a one-ounce boule is recorded, and after Nov 22, 1929, the one-ounce boule was produced with both stopper styles. However, a photo of the boule with the 'dans la nuit calligraphic' stopper, and it is dated 'after 1925'.
The boule was rendered in a number of sizes. On October 5, 1938 there is a notation that a Dans la Nuit perfume boule was produced in a size of 9.8 inches. The 9.8 inch boule had the 'dans la nuit' stopper. The largest size is 10.5" and served as a factice.
A glass powder dish with lid was also created and based on the boule flacon. It is also made by Lalique. The powder jar stands about 5" tall x 4" diameter.
All bottles marked "R. Lalique" date to before 1946. Bottles made after 1946 will simply say "Lalique."
photo by Bonham's
Also presented in electric blue glass and two sizes of flattened spherical smokey blue glass bottles with either blue glass or turquoise plastic stoppers, various molded marks of Lalique.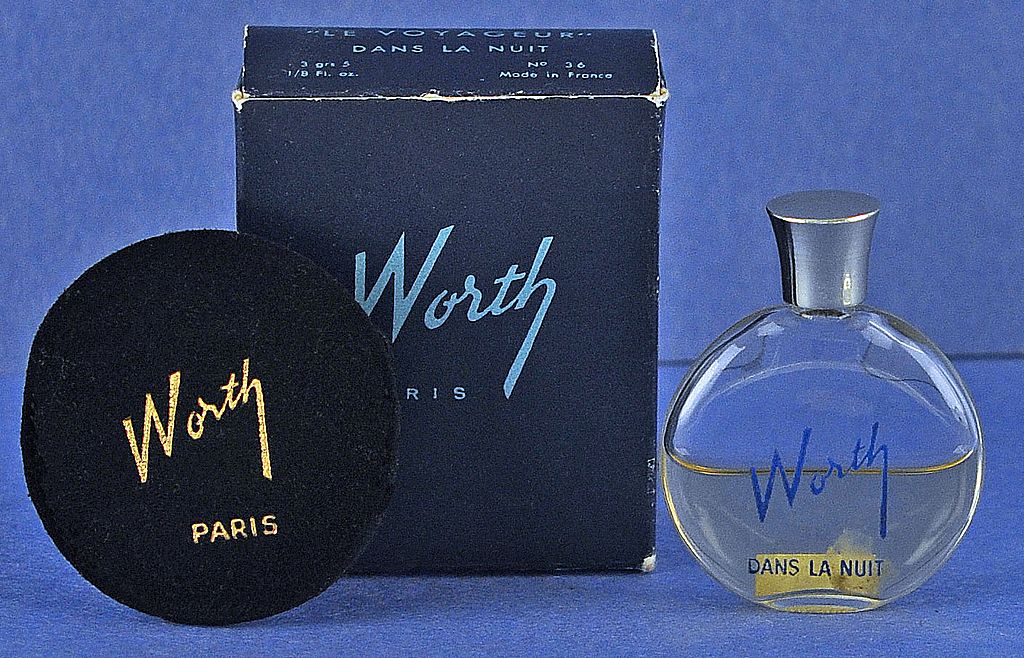 c1940? photo by ebay seller lightofthemoon
Fate of the Fragrance:
The perfume's production was halted during WW2, it didn't reach counters on US shores again until 1953. Discontinued, date unknown, still being sold in 1975.
Reformulations
Dans la Nuit was reformulated in 1985 and relaunched in 1986, for the 50th anniversary of the launch of this perfume. The bottle was designed by Pierre Dinand in 1985 and manufactured by Pochet et du Courval with plastic components supplied by Matic Plast and AMS.

It was then discontinued and relaunched in 2000.
The reformulation's composition:
Top notes: aldehydes, green notes, violet, bergamot and lemon
Middle notes: carnation, cinnamon, orris root, jasmine, ylang-ylang, lily-of-the-valley and rose
Base notes: sandalwood, tonka bean, amber, musk, civet, vanilla and vetiver
For the 1986 relaunch, the perfume was presented in a replica of the original 1924 Lalique molded glass Worth perfume flacon, the spherical clear glass body was molded in low relief with stars, enameled with a satinized (chalky like) blue finish; supporting a flattened circular stopper molded with a crescent moon. The bottle holds 350ml and is the largest size bottle Lalique made for this perfume. This bottle originally retailed for $485 in 1986. When you find this bottle, it will be marked "French Bottle" and "Creation R. Lalique", also inscribed with number on the bottom, which should correspond to the number inscribed on the base of the stopper.
1980s version for the eau de toilette has a silver metal around the collar.Base of bottle is marked "Creation Lalique. Bottle Made in France."
Additional information used in this guide courtesy of:
The Art of Rene Lalique: Flacons et Powder Boxes by Christie Mayer Lefkowith
The Art of Perfume by Christie Mayer Lefkowith
Lalique Perfume Bottles by Glenn & Mary Lou Utt
Collector's Weekly website